Timeform Recap - 2018 Australian Guineas
Timeform recap the 2018 Australian Guineas won by Grunt for trainer Mick Price and jockey Damien Oliver.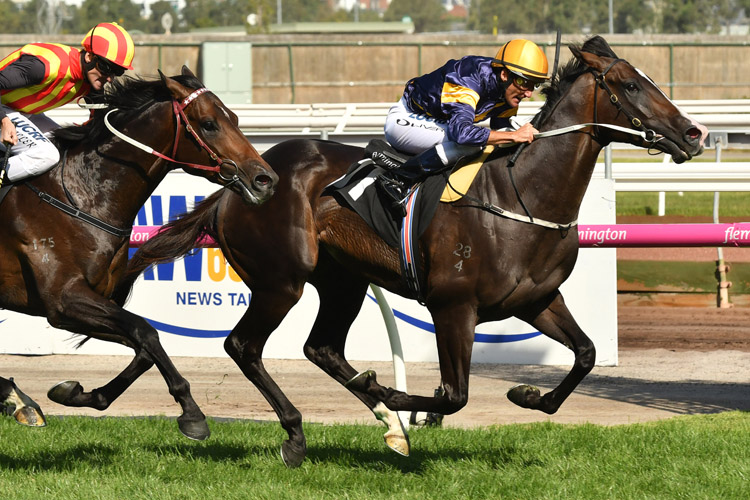 Just over a month ago we discussed the current three-year-old crop which you can read here and how, for all that it was lacking in established top-end talent, it was flush with promising horses ready to fill that void.
Saturday's Australian Guineas provided the platform for two of those promising horses to join the 120+ club in the 122-rated winner Grunt and runner-up Peaceful State who ran to a mark 120 (a rating often good enough to win the Australian Guineas) in defeat.
Where there were four there are now seven three-year-olds rated 120 or higher in the current crop after Kementari (rated 123p) and Pierata (120p) gained membership in last week's Hobartville. D'Argento, who ran third there, is rated 119p and it would be a great surprise were he not a member by season's end.
High ratings are often about opportunity. The founder of Timeform
Phil Bull famously stated that times are not for telling us how good a horse is, but rather showing us how bad a horse isn't. In other words, a good horse can run slow, but a bad one can't run fast.
On Saturday we saw good horses given the opportunity to run fast with the Australian Guineas run at a strong tempo throughout.
On Saturday we saw good horses given the opportunity to run fast with the Australian Guineas run at a strong tempo throughout.
From the 800m mark the finishing speed of the Australian Guineas was bang on 100%. Given that the first half is run from a standing start, that's slightly too quick. Cliff's Edge's individual finishing speed was 99%. He was sitting on the red line, and just a couple of strides faster may have seen him fall out the back of the telly, but his late deterioration was not so rapid as to leave us thinking that the tempo was suicidal.
Grunt's finishing speed from halfway was 102% and Peaceful State just slightly higher than that - perfect.
As a result we got a chance to see just how bad these horses aren't. The answer is they aren't very bad at all. In fact, they are very good, and the Guineas can be seen as another tick for a late-blooming crop of three-year-olds who continue to impress, and are expected to go on impressing in the coming weeks as the carnival hots up in the Harbour City.
The Australian Guineas has been a very consistent race from a ratings perspective but two horses running to 120 or better has only happened six times in it's 33 years. They were Military Plume and Vo Rogue (1987), Mahogany and Pride Of Rancho (1994), Dignity Dancer and Mossman (1999), Pins and Freemason (2000), Reset and Starcraft (2004) and Miss Finland and Casino Prince (2007).
That group of horses are responsible for winning a lot of major races in their day and the 2018 Australian Guineas looks like following suit by producing plenty of big winners in the coming year.