Handicap Homework: Grounds for Optimism
There's planning, plotting and placing that all goes into preparing a horse for a Cheltenham handicap, but nothing makes a difference like a difference in the ground.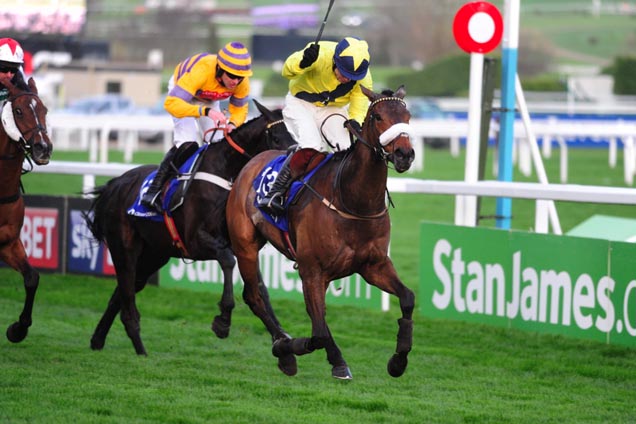 Who knows what impact the snowy spell will have, but more often than not the conditions at Cheltenham change with the spring season, bringing unconsidered horses more on the radar, and that's the purpose of this statistical study which uses Timeform
data to pinpoint some would-be transformers.
'Good to soft, good in places.' If there's a first-day certainty at Cheltenham, year in year out, then that's it, the official description of the ground. It's less official and more political, as the truth tends towards 'good, good to soft in placation,' to assuage any cagey connections that conditions are as yielding as their practice, at least before the Supreme winner's time flirts with the track record.
The difference this time is the effect of the Beast from the East, and the after-effect of the thaw from the floor, as to impacting on the Cheltenham ground, the game-changer generator for some horses who spend the winter looking like Clark Kent and suddenly shift into Superman in the spring.
The influence of the ground is easy to point to post-race, as aftertiming analysis, but harder to highlight pre-race, because of the sheer amount of panning to be done before there's any glint of gold. To that end, therefore, the true talent at Timeform – the Research & Development Team – has conducted some statistical sifting to identify the likelier lads for a ground-related resurgence, in specific reference to the handicaps, for which the weights were announced this week.
In the round, we're basically looking for those horses who've achieved their best ratings on good/good to soft but have been largely stuck in the mud this season, the ideal recipe, in theory, for a Cheltenham resurrection. It may be academic, it may be symptomatic, of an incognito approach to the Festival, but either way it's still a worthwhile exercise, to let us do some of your handicap homework, or groundwork, for you. So here, then, is a longish list of qualifiers, for your consideration, of the terms and conditions: the transforming terms for the drier conditions.
ROMAIN DE SENAM - Brown Advisory Plate
(best rating on good/good to soft: 146 - on soft/heavy: 137)
We'll begin with him as it's a good illustration of what we're getting at. Here's a horse who's always been happiest away from the mud, dating back to his second in the Fred Winter at the 2016 Festival, yet has spent half of this campaign – his last two races to be precise – fighting a losing battle on soft, when his first two, on favourable ground, had seen him raise his game with back-to-back wins. The upshot of his testing times on testing ground is a 3 lb drop in the weights, to 142, when he'd looked on his way to a mark in the 150s in the autumn. If he re-found his voice at Cheltenham, you'd know why, and that's the whole point of this article.
TULLY EAST – Brown Advisory Plate
(best rating on good/good to soft: 147 - on soft/heavy: 142)
This isn't reinventing the wheel by telling you that Tully East
may be a different horse at the Cheltenham Festival – the way he was in both 2016 (fourth in Martin Pipe) and 2017 (won Close Brothers) – but, looking at the above figures, that 147 can only go one way given his previous best in the mud was 131, prior to this season, in which he's been handicapped, literally and figuratively, by facing nothing other than soft ground, still making a big statement with his latest third to Patricks Park at Leopardstown over an inadequate two miles. Another storm – the beast Tully East - is brewing for bookies, who are already running for cover.
DADSINTROUBLE – Coral Cup, Pertemps, Martin Pipe
(best rating on good/good to soft: 135 - on soft/heavy: 120)
Now we're digging deeper, but unearthing a rough, mud-covered diamond is what we're aiming for with this project. It's not just the ground – though it's been soft and heavy for him since his reappearance – why Dadsintrouble
has been so quiet this season, as he didn't take to chasing, but reverting to hurdles on his latest start at Exeter certainly reinvigorated him, and the fact he traded at 1/2 in-running, before folding into fifth, told the story of how he travelled compared to how he finished, a classic case of the heavy going dragging him down. But that spike on the heart monitor at Exeter takes on added significance when remembering how everything was pumping so positively on good ground at the big two Festivals last spring, at Cheltenham (ninth of 23 in Martin Pipe but bang there between last two flights) and Aintree (third to Fountains Windfall and No Comment). The Pertemps, because of the trip, may be the best of his three options, and he could well put the spring in springer.
BARNEY DWAN – Close Brothers, Kim Muir
(best hurdles rating on good/good to soft: 145 - on soft/heavy: 136)
This hasn't been missed at all, as Barney Dwan
is amongst the favourites for the Close Brothers, his likelier Cheltenham target, but, for much the same reasons as Tully East, it's worth bouncing off the ground to portend the power surge it may bring. This season, in his second stint over fences, Barney Dwan has set about chasing with greater relish, yet two of his three runs have been on soft or heavy, when we know from his hurdling record that he's suited by better ground, as well as a bigger field than he's had in novice events this term (10 rivals in total), as emphasised by his second in a field of 24 for last year's Pertemps at Cheltenham, that off the same mark (143) as he has over fences for this Festival. He's graduated as a chaser, with two wins, without dipping into his specialist subject, of good-ground, big-field handicaps, and that marks him out from the crowd.
FOREST BIHAN – Grand Annual
(best rating on good/good to soft: 155 - on soft/heavy: 147)
Interesting this one, as Forest Bihan isn't automatically thought of as a mud-hater, and there probably are other factors at play with him, but it might, in part, explain and excuse his malaise since a winning reappearance (on good to soft at Kelso) where he beat no less than Simply Ned off levels, as they both had a mark of 154, which Forest Bihan has slipped back down to. There was a four-race spell last winter when the only horse to beat Forest Bihan was Waiting Patiently.
THEINVAL – Grand Annual
(best rating on good/good to soft: 148 - on soft/heavy: 125)
Forest Bihan in the Grand Annual is speculative to say the least, but Theinval, gunning for the same race, is about as solid as the ground that makes such a difference to him. That's because he was third in the Grand Annual last year , off the same mark he has this time around (141), down from the 148 he started this season, by virtue of four low-key runs, but two of those came on unsuitably soft ground. Comparing what he can do away from the mud to what he can't do in it, Theinval has one of the biggest discrepancies – 23 lb - of all handicappers in our study.
VOIX DU REVE – Coral Cup, County Hurdle, Martin Pipe
(best rating on good/good to soft: 150 - on soft/heavy: 131)
It's not that he doesn't want soft or heavy, as we don't know enough about him to be categorical, but he was so deadly on good ground at Cheltenham in 2016 – all set to win Fred Winter when falling at the last – that it's worth drilling down on those two big ticked boxes (Festival form and groundwork), especially as he's been little seen since. But what we did see on his belated comeback at Leopardstown in December we liked a lot, so much so that he was a Timeform Horse In Focus back there for the Dublin Racing Festival, only to 'bounce' on the face of it, but spared a hard race. His mark of 141 for the Cheltenham handicaps is a wide-open door to a resurgence, and the ground may just be the springboard he needs.
J. P. McMANUS – County Hurdle
There are so many horses in the same boat, for the same owner, regards the same race, that it's best to group these together as a McManus team play, rather than pick one out. We've been here before with Ivanovich Gorbatov, the Triumph winner of 2016 who almost sacrificed last season for one shot at the County Hurdle, when sent off 5/1 favourite and beaten just over two lengths into sixth. He's 2 lb lower now than then (150) after a season spent on testing ground. Likewise, from the Joseph O'Brien yard, Tigris River has fired for months, in the mud, since he won the Galway Hurdle, the race in which Project Bluebook was an unflattering sixth, worth keeping in mind (from a mark now 5 lb lower) as neither the Greatwood nor the Betfair Hurdle was any use to him with the conditions that prevailed. And then there's Charli Parcs, the talking horse who has never really spoken up, and, whether or not the bottomless ground was to blame at Newbury last time, there's more to his flaws and foibles than just the ground.
Staying with McManus, other ground-generated qualifiers for heading in other directions include River Frost (Martin Pipe or Coral Cup), who has a best of 139 on good/good to soft versus 116 on softer, making it easy to overlook his pulling up in the Lanzarote in favour of his promising comeback in the Silver Trophy when right behind Sam Spinner and Wholestone. The aforementioned Theinval is disputing favouritism for the Grand Annual with Vaniteux (also on the hit list) and Don't Touch It (152 v 144), whose underwhelming campaign so far might have been in part down to the ground, and in part down to a plan, but Harrington primed Rock The World for the race in 2017 following a similarly sober season to that point.
With various horses at the Festival, there are grounds for optimism, as the spring ground brings fresh optimism, if indeed the Beast from the East allows it. Of those shortlisted from our study, the two that make most appeal, comparing the price with their potential for regenerating, are Dadsintrouble for the Pertemps and Voix du Reve for the Coral Cup, both backable at 33/1. Even then, with the pair having more than one entry, the target is itself a guessing game, but they're playing the regeneration game, and the going means they're going for gold.

Most Read