Scandinavian breeder John Bootsman lauds Victorian trotting and launches investment
A renowned Scandinavian trotting horseman sees Victoria as the new breeding frontier.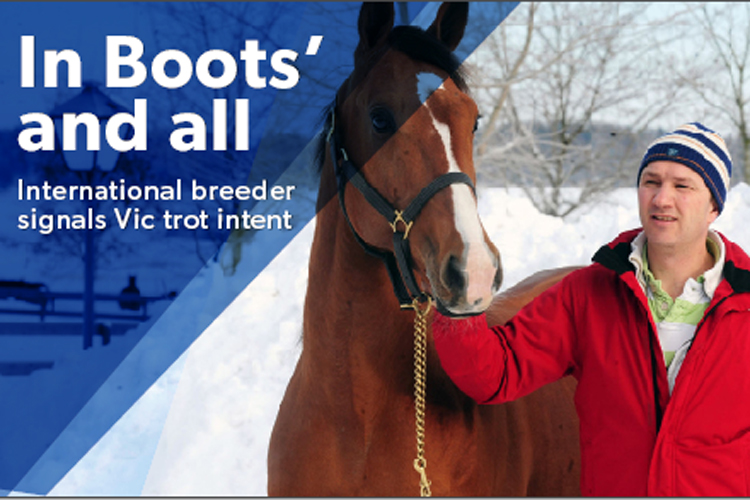 Boko Stables owner John Bootsman, who is also part-owner of two European race tracks and is a prolific square gaiting breeder, has flagged an eagerness to buy into Victorian trotting amid a tour Down Under.
"I think the time is right to invest in Australia," Mr Bootsman said. "I'm very optimistic for Victorian racing in the next five years."
Mr Bootsman will attend Lyn McPherson Breed For Speed night at Tabcorp Park Melton on March 10, when four trotting Group 1 races will feature including the $100,000 Seelite Windows and Doors Australian Trotting Grand Prix.
It precedes the Pryde's Easifeed Australasian Premier Trotting Sale at Melton on March 11, and Mr Bootsman visited Duncan McPherson's Aldebaran Park last week and committed to buying a trotting filly, signalling it would be the first of many.
"I feel now is the right time to invest in Victoria," Mr Bootsman said.
"I met (Harness Racing Australia chairman and trotting enthusiast) Michael Taranto in Europe and I have a good connection with Duncan McPherson. I see the enthusiasm of people."
Mr Bootsman's Boko Stables has about 350 horses spread throughout Europe and he said, while "I like to win things", the want to invest in Australia was predominantly about doing "the right things by your business and it's the right time to invest in Australia and I think Victoria is the right place to be".
"I'm very interested in buying trotting fillies because it is a good chance to win some money and then to breed, so the opportunity to invest here has never been so good," he said.
Rather than import his own fleet of European broodmares, Mr Bootsman said, due to import costs, it made better commercial sense to purchase and race juvenile Australian fillies before setting them for broodmare careers.
"The fastest way for me is to look at the Australians, (work out) which have the best racing blood and buy them," he said.
"I will look to buy trotting fillies and breed them. That is my fastest way into Australia and the most economical way. So far I like what I see."
It is not the first time he has dipped his toe into Victorian waters, having sent Yield Boko to Australia in 2013 to contest the 2014 Great Southern Star.
Unfortunately, a ligament ailment would mean he wouldn't see the race track, but the stallion did stand at Aldebaran Park and his progeny include Fend Off, an Empire Stallions Vicbred Super Series heat winner and final runner-up.
That now three-year-old Yield Boko gelding out of Aldebaran Sunset is owned by Mr Taranto, who was thrilled by Mr Bootsman's intention to invest in Victorian trotting.
"From an international perspective we have people like Pat Driscoll at Yabby Dam Farms and Duncan McPherson at Aldebaran Park who have committed to bringing overseas bloodlines to Australia and racing or breeding prospects," Mr Taranto said.
"What we are seeing is one of the biggest breeding establishments in Scandinavia now directly investing in trotting in Victoria.
"That's amazing news and flows from the effort of Victoria to focus on the trotting gait and enhancements it has made in the past five years."
They were sentiments echoed by McPherson, whose farm will sell Mr Bootsman his first entry into the Victorian market.
"He arrived Saturday week ago (February 17) and had a trip to Aldebaran Park on the Wednesday," Mr McPherson said.
"He walked through the paddock, looked at the mares and foals and then at those set for the APTS.
"On the way back he turned on the light in the car, studied the booklet and said here's my list of six and I want to buy a foal, which will be retained for his racing purposes in the Southern Hemisphere."
Mr McPherson said the coveting of Australian bred horses from international bloodlines was reward for the diligence of many.
"Aldebaran Park has invested in racing in Sweden and America for ages and we are hoping to get investment in the Victorian trotting industry from other parts of the world and that is starting to happen," he said.
"Like Pat Driscoll, Jim Connelly and others we've been importing broodmares for seven or eight years.
"For the rest of the world to be looking at Australian horses for purchase is a real credit to our industry and to Harness Racing Victoria for putting us on the map.
"The ultimate is for Europeans to send horses down here to race in our A league races and then have them stay on as stallions, and for those stables to set up international outposts. This is the start of that happening and John has made it clear this is his next area of investment."