Pryde's EasiFeed Premier Trotting Sale Stats Up Across the Board
Records tumbled at today's Pryde's EasiFeed Australasian Premier Trotting Sale with numbers up across the board.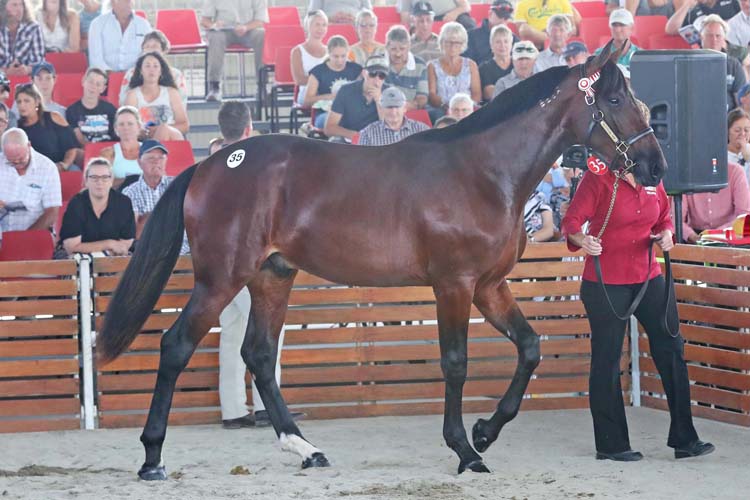 The sale average this year increased a whopping 41.6 per cent on last year, the 2018 average of $21,490 substantially up on last year's $15,167.
Sixty yearlings went through the ring, eight more than last year, and the top lot fetched $90,000 compared to last year's top lot, $55,000.
All up, $1,074,500 in total sales was recorded today at Tabcorp Park Melton (more than $400,000 more than last year) with a clearance rate of 83 per cent (up 8% on last year).
Importantly 12 of 41 sold made $20,000-plus last year, but this year 21 out of 50 sold made $20,000-plus.
Ninety-one people registered to bid.
"Today's results are extremely encouraging and showcase the confidence in the trotting gait in Victoria," Harness Racing Victoria's Emma Prosser said.
"The quality of the catalogue certainly played an enormous role and I must congratulate the vendors and the preparers for the way the yearlings were presented."
For the second year straight, Terang's Matthew Craven purchased the top lot. Craven paid $90,000 for a striking Muscle Hill colt, out of Kyvalley Aldebaran – a full-brother to the 2017 sales topper he purchased 12 months ago.
The colt was prepared by Danny and Melinda Thackeray on behalf of Aldebaran Lodge, which had 12 yearlings in today's sale.
Aldebaran also produced "Aldebaran Stephan" (a colt by Pegasus Spur out of Sundonna) – a full-brother to the fastest Australasian-bred trotting mare Maori Time – which went for $60,000, "Aldebaran Dominic" (a colt by Andover Hall out of Aldebaran Dream), purchased by Jim Connelly for $50,000, and "Aldebaran Zander" (a colt by Muscle Hill out of Yield Boko) for $46,000.
Chris Lang and Haley Toulmin also had a successful day, selling an Angus Hall-Miss Warbucks colt for $42,000 to Molander Racing after a spirited bidding contest, and an Angus Hall-Shes An Image colt to Rob Thompson for $41,000.
The live stream of the APTS this year was well-viewed, with the number of people 'currently viewing' the stream hovering at about 150 for the bulk of the day.