It's Marshal's Mile . . . In Record Time
Leading Kiwi reins man Tim Butt made one of the biggest decisions of his life when he left New Zealand to set up a Sydney stable several months ago.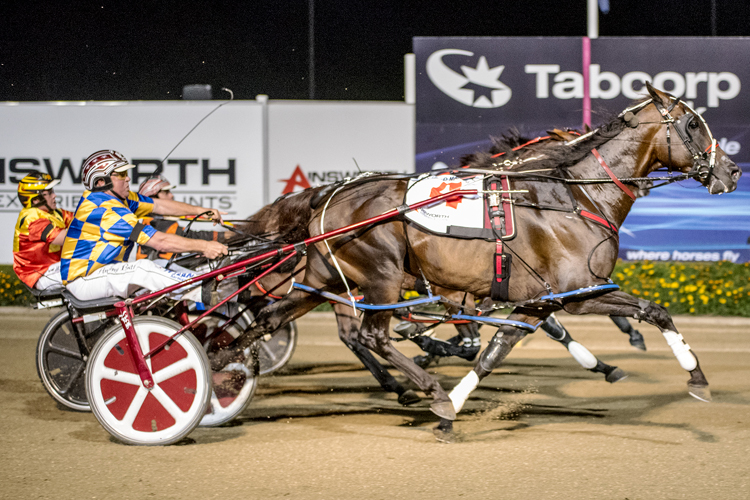 That massive gamble paid the biggest dividend yet when Butt and his brother Anthony won tonight's $750,000 AInsworth Miracle Mile with his stable star My Field Marshal.
The six-year-old son of Art Major became the fastest horse in the Southern Hemisphere when he rated 1:46.9, grabbing Jilliby Kung Fu in the shadows of the post to win by a head while the gutsy Soho Tribeca, did all the hard work and again found a couple just too slick for him in the last few strides, finishing a close third a nose fourth back.
With a track that had been on fire all night, the Mile was always going to be a supreme test of speed and stamina and that's exactly how it panned out with Anything For Love finding the front from barrier rise with Soho Tribeca working up to race without cover and keep the pressure on the leader.
All this time Anthony Butt was content to settle My Field Marshal back in fifth and sixth place and bide his time until as late as possible.
Turning for home Soho Tribeca forged to the front while Jilliby Kung Fu emerged from a one-one trail to challenge the leaders.
Then Butt's patience gave out and he brought My Field Marshal with a flashing finish to score in an incredible 1:46.9 after quarters of 26.3, 27.3, 26.2 and 27.1s in a race that was not for the faint-hearted.
What an amazing Miracle Mile!
My Field Marshal charges at them late and nabs Jilliby Kung Fu and Soho Tribeca right on the line in a southern hemisphere record 1:46.9 as Lazarus misses a place for the first time in his storied career. pic.twitter.com/syAczPYlnl

— Sky Racing (@SkyRacingAU) February 24, 2018
Disappointment of the race was the champion Kiwi pacer Lazarus, who settled back near last but raced three-wide for most of the trip and never got into the fight. Indeed Lennytheshark, which settled last, ran past him in the straight and finished a creditable fifth while Tiger Tara, beaten for gate speed from the one barrier, was also not far off in fourth spot.
But it was a night for the Butts and trainer Tim admitted it was a heck of a risk moving across the Tasman to set up "shop" at Menangle.
"We have some great owners and they have become good friends," he said.
'We used to put on some pretty big parties when we won in New Zealand - and I have to admit we'll be kicking up our heels tonight too.
"This win was so satisfying and there are so many people who have helped contribute to our success.
"And My Field Marshall was just fabulous tonight - he has earned this win."
Certainly Butt decision to bypass last December's Inter Dominion Championship in Perth was a winner as there were a few tired horses in the Group[ One tonight . . . but My Field Marshal was certainly not one of them.